It's the "marry" month of June! And maybe like you, there's a certain magic in weddings that always drew me in. From the wedding gown to the shoes, to the invitation, from the wedding dance,  to the motif,   the music, the photos, from the cake down to the tiniest details as the guest cards, there's something intricate in each of them. Through the weddings I've attended I noticed how slowly weddings have become a more personalized tradition, by means of diy wedding invitations and other tokens that are unique and designed by the couple, everything becomes their own.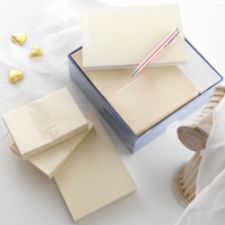 Although making wedding invitations by yourself could be time consuming it is worth it, you design it with your beau and you do the buying of materials, designing and layouting, printing, cutting and choosing of scent as well. Though wedding planners are a surefire way to go in ensuring everything is in place, not all those getting married have the budget for them. Personally, I would save up for the marriage too and not just the wedding. So if you're on a budget, doing diy stuff is a big help.
Plan Ahead
To start off, do not make an excuse to do your invitations tomorrow. The earlier you start, the sooner you will be finished and be able to give them to your would be guests. You might think it will be easier to order invitations out but remember that picking a design among hundreds, locating a print shop and all those will also take time…and you are not the only client your choice of print shop would have.
Choose  a Design
Choose the type of fold you'd like to use, the paper you'd print on, consider the motif, the wording and font. You can refer to online samples but if you truly want your invitations to be unique make sure you just get ideas and not copy wholly.
If you have a printer and know its capacity you can use it, otherwise, visit a copy shop and they'd be a helpful bunch.
Rally Friends To Help
Ask friends to help you out with the cutting, pasting and putting ribbons and whatnots. There surely is one or two of them free in the weekend to give you a hand. You'd be sure to have a lovely set of invitations to give out.