One of the most versatile clothing pieces that a woman can own is a sarong. This rectangular piece of fabric can be turned into various beach or resort wear outfits with little effort. It is commonly used for beach cover-up by fashionable women but it may also be worn as a long or short skirt, wrap around dress, scarf or shawl for different occasions. The versatility of sarongs for women extends to more than just fashion needs as they are also used as wall decors, table cloths, blankets or curtains. One would certainly benefit from knowing the different ways to use a sarong.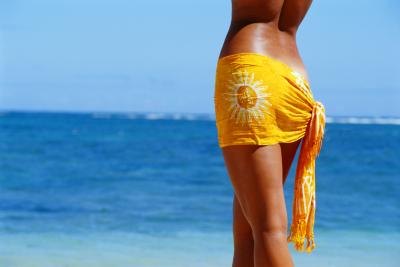 The common materials used for sarong are light fabrics like cotton, crepe, rayon, polyester, silk, and synthetic cloth. It also comes in different designs that range from plain or solid colors, tie-dye prints, floral, Celtic, and other prints. Special sarongs are usually made from high grade materials and are either hand painted or embroidered. These are the ones that look great anywhere from one's body, accent wall or table. Fashioning the sarong into outfits that can fit various dress codes can be as simple as tying a few knots and tucking a few areas. Those who would like to forgo the knots can make use of tying devices for their Sarongs. There are some stylish Sarong tying devices made from materials like mother of pearl, coconut, bamboo, and shells that can secure the sarong by slipping the sarong ends through their holes. The easiest way to wear a sarong is to wrap it around the waist and tie both ends into a secure knot. Whether worn long or short, sarong skirts always look great for a casual stroll at the beach. Creating a Sarong dress is a bit more complicated than that of the skirt but they make great outfits for semi-formal or formal beach events. One can even pull off an elegant look with minimal accessories given the right sarong material and print.
Having a few Sarong pieces in the wardrobe is a practical investment for women who love to create different looks for themselves. Showing off the different facets of Sarongs for women is something that fashionable women can enjoy.