Looking for a dress or gown for your quinceanera? Here are some ideas….
Quinceanera dresses are elegant and bright-colored full-length gowns that are worn by girls in several countries to mark the celebration of childhood to adulthood. Many young women eagerly anticipate the quinceanera celebration, and they scrupulously search for the ideal dress for this momentous occasion. In Latin America and Mexico, the quinceanera dress is worn at a celebration of a young woman's 15th birthday. During this event, the young woman walks in fashion show to show off the beautiful gown. This notable tradition continues to remain alive, and these princess-like dresses continue to be very attractive and picturesque garments.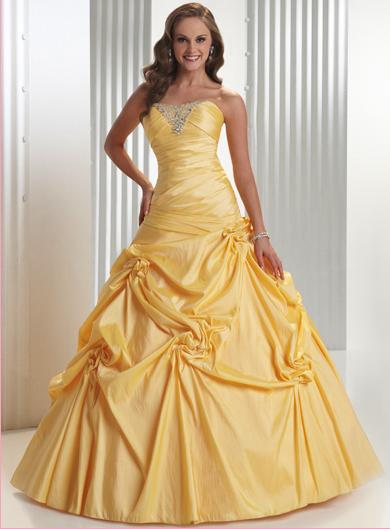 In addition to wearing the dress to a traditional quinceanera celebration, many young women sport these stunning dresses to homecoming events, proms and weddings. Whether you choose a strapless, sweetheart neckline or a one-shoulder quinceanera dress, the elegant bodice will nicely show off your arms. Suitable for a variety of body shapes, the full tulle floor-length skirt is the perfect part of the dress that will help you bring out your defining moment at your celebration.
When you shop quinceanera dresses at DressProm.net, you will find various styles of beautifully-designed full-length gowns in different colors. Although the colors of the quinceanera dresses vary, each color perfectly suits each style. When you arrive to your event, you will certainly feel glamorous and sophisticated.